How do I make a choice about specialty?
Summary:
Making a decision about specialty can be difficult, but there's most likely more than one specialty that is perfect for you. You can be happy and successful in medicine no matter what specialty you choose. You need to decide what your intention for your own career is, and what type of doctor YOU want to be. The choice of specialty is a question that you should be considering from the moment you begin medical school. Don't limit yourself! Speak to as many attendings as you can about their specialties and discuss the pros of cons from people "in the trenches" of each particular specialty. There are numerous questions you should ask yourself when it comes to making a choice of specialty. Don't let lifestyle factors or needs be your main factor when making your decision – you need to ENJOY what you will be doing on a daily basis! Listen to your internal voice about the type of doctor you want to be, and with time the right specialty will come to you. Never forget that there are multiple specialties that could be the "right" specialty for you!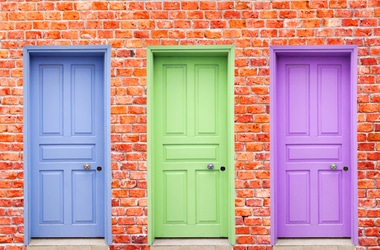 There's no "one true love"
Making a choice about specialty can often be an agonizing process. It's hard to close the door on certain options… You wonder if you're making the right choice, or whether you'll come to regret your decision. It's probably better not to look at the decision as choosing "the best" specialty for you because it's hard to know exactly what that means… It's likely that a certain handful of specialties are a good fit for you based on the way that medicine is practiced within those specialties. Likewise, there are certain specialties which are not as good a fit.
Your happiness and success in medicine is only partially dependent on you choosing a specialty that is a good fit for you. (Again, keep in mind that there are MANY specialties that could be a good fit…) Satisfaction and meaning are derived from many other factors as well. Don't make the decision of a specialty out to be more than it is.
What is also important is your own intention regarding your career. This is a process of thinking that you need to start early on during medical school… What type of activity beyond clinicals do you want to do? What is the type of impact that you want to have? If you have put some thought into these questions, you will realize that a number of specialties will allow you to achieve your dreams and reach your goals.
Start the process early

Most students are definitely engaged with the question of specialty once they are on their clerkship rotations, and that is definitely a critical experience in the process. However, the key to making a good decision is to start on the process early. Many students say that they've had many changes of heart before the final decision… Each change represents valuable learning for you about your fit with certain specialties. You want to give yourself the time to evolve and deepen your thinking. It would be reasonable to say that you should be engaged with this question throughout your time in medical school, even as a first-year student.
As a part of the process, you'll want to do a lot of shadowing with doctors from the specialties that interest you. Meeting with more people in different contexts will show you how large and interesting medicine is and give you additional ideas about the career you may want to pursue. You may want to reach out to some faculty and let them know that you are interested to learn more about their specialty and to see if they can meet with you to share some perspective. After all, the specialty you choose is what you'll be doing for the majority of your life… You want to make sure it's something you will always enjoy.
You'll spend much of your life in there, where is that place that you want to be?
Whatever specialty you choose, you will still be spending many hours of the day doing that particular job. You'll want to ask yourself questions such as: How much predictability do you want? Do you want to be in the hospital or out of the hospital? What pace suits you? What community do you want to belong to? You want to make sure that the clinical activity associated with the specialty you're considering is a great fit. You'll want to find the environment that is most suited to your personality.
You may be talking to a lot of residents in the specialty you are interested in during your clerkships. The residents will have a useful perspective, but make sure you talk to attendings as well to understand what life is like post-training in that particular specialty.
Many students think about the type of lifestyle they want to have as a major part of their decision regarding a specialty. While lifestyle is important, don't let this be your only determining factor when making this decision. You'll be spending a ton of time doing the actual job and you don't want to be miserable 24/7!  These external considerations are important, but don't lose sight of your internal voice of what YOU want to do and be for the rest of your career.
Reconciling external pressures versus internal voice
Another aspect which makes the choice hard is reconciling what YOU want versus other external considerations. Perhaps you want to be a surgeon, but the length of training is just too long. Perhaps certain specialties afford you more flexibility with other priorities in your life. Perhaps you need to make a certain level of income because your family relies on you to help support them. These are all part of the decision. There are no right answers, but these considerations are often part of the decision and should be acknowledged. However, at the end of the day, the internal voice of exactly what kind of doctor YOU want to be needs to be the determining factor.
What kind of doctor do I want to be?
So what kind of doctor will you be? Choosing a specialty is a big part of that answer. However, it's NOT the only part… As long as you realize that you are always defining yourself as to the type of doctor you are, even after you have chosen a specialty, that's the most important thing. You need to be constantly evolving and bettering yourself every step of your career in order to become the best physician you can possibly be.